Take Your Career to New Heights with PHI
At PHI, we believe that talented people only reach their full potential when they're a part of an exceptional team. That's why we strive to bring together the most talented, passionate professionals and empower them to drive the future of helicopter aviation services.
Whether you're a recent graduate or seasoned professional, learn more about our current opportunities across all business operations and locations.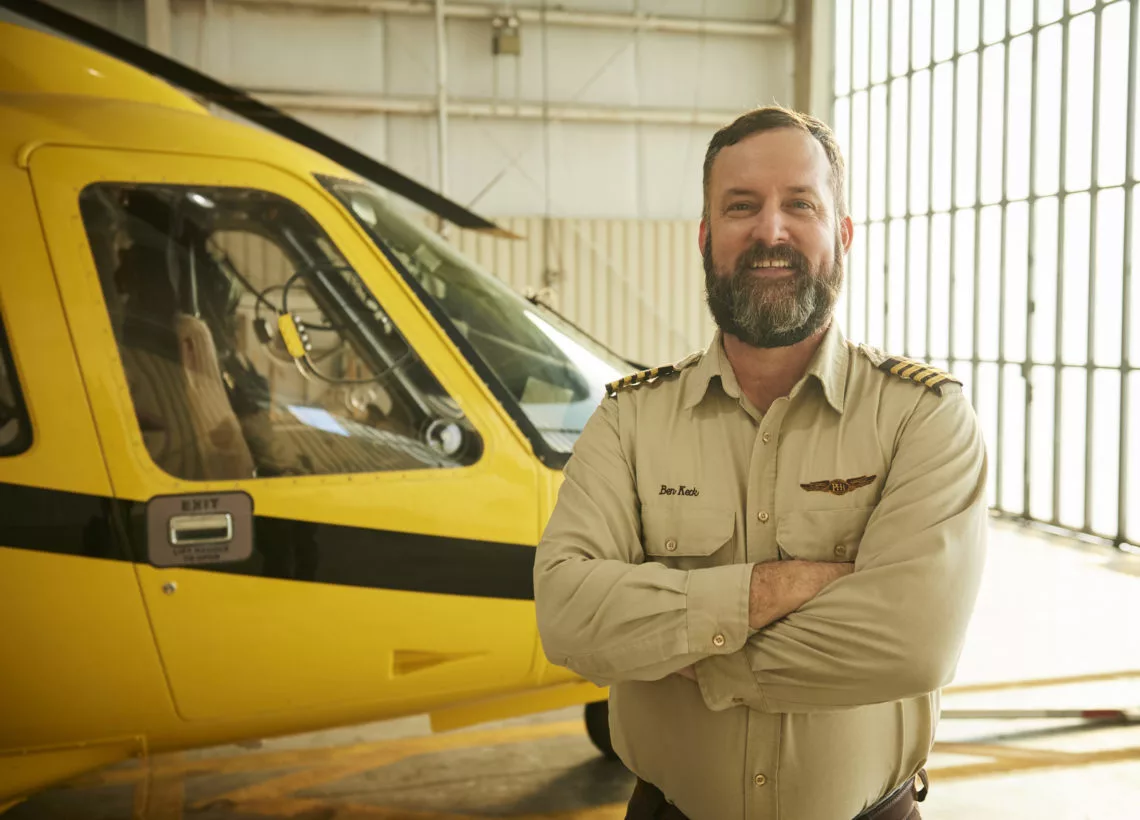 "What I like most about PHI is the team culture. I feel like everyone has a common goal and we're working towards that goal every day. Sounds cliché, but it's like family—a lot of folks have a military background and there's camaraderie in that. The future of PHI looks promising. "
Captain Ben K.
"At PHI, the maintenance and safety culture are second to none, but it's also a career level opportunity. We have different airframes, so you can start in a Bell 407 and work your way up to the captain of a large, heavy ship. There are opportunities for career progression which means you can spend a full lifetime of work at one company, getting to know that one work culture and really embodying their safety culture."
Captain Kirk R.
"What makes PHI unique is our strong safety culture. We provide top-notch service to our customers, and the care that I feel from management to their employees is unique to PHI."
Paul N, Senior Mechanic
"Our people, our mechanics our pilots—we're all extremely passionate about what we do, and we do it the best. When customers get on our aircraft, they know they can get from point A to point B safely, no issues."
Ramon K, Senior Mechanic
"It was supposed to be a summer job—I've been here for 40 years now.
PHI is a good company. We look out for each other and management looks out for us—this is the best job I've ever had. "
Douglas L, Senior Mechanic
"This is a great company with a bright future. PHI has been around since 1949, and they've learned from their past. They have a great reputation in the industry and a lot of positive things happening on the maintenance, training and operations side—and we've got the right people in place to facilitate the growth we see coming. "
Captain Brad H.
Our Commitment to Diversity and Inclusion
PHI conducts business in almost every part of the world, so we're committed to building a talented and diverse workforce. We believe that it's the collective differences of ideas, perspectives, backgrounds and skills across our company that make us stronger and set us apart. We pledge to continue to create an environment that inspires innovation, allows our people to perform at their very best and builds a culture in which everyone feels they belong and has opportunities to grow, learn and advance their career.
Powered by People.
Driven by Excellence.
PHI helped pave the way for the rotor wing industry. Our story starts in 1949 when PHI was founded with just three helicopters and seven employees. Now, with more than 200 helicopters operating across six continents, PHI has solidified our position as the leader in helicopter transportation services.
Here at PHI, we know that it's our people who truly set us apart and make our success possible. Customers around the globe choose PHI for our safe, efficient, quality, service—a mission made possible because of our extraordinary teams. Our highly skilled pilots, mechanics, communications specialists, emergency medicine personnel and safety experts are some of the bests in the business. With our world-class training and development programs, benefits and culture, PHI is invested in providing our people with the resources and support needed to reach their full potential.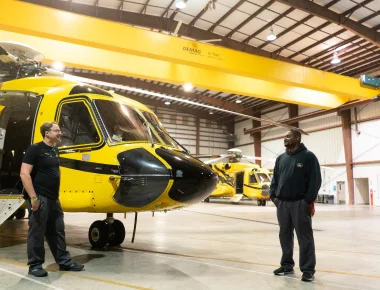 Benefits
We offer a range of competitive benefits to keep our teams happy, healthy and invested.
Diversity
We're committed to building a talented and diverse workforce where everyone feels they belong.
Women in Aviation
PHI actively partners with organizations to drive positive change and recruit, retain and advance women in aviation.
Growth
Our comprehensive training and development programs are FAA-approved and customer-accepted.
Military Veterans
We greatly appreciate our military Veterans and are honored to bring their valuable skills to PHI.
Learn more about PHI's SkillBridge program.
Sustainability
Being sustainable is about creating opportunities and value for our people, partners and communities.
Learn more